The QEII Foundation established the Raymond L. Roberts Emergency Medicine Young Researcher's Grant (EMYRG) in 2023 to provide financial support to new researchers who are contributing to the field of emergency medicine. The purpose of the grant is to advance both discovery and clinical care in emergency medicine. It was made possible by a legacy gift from the late Raymond L. Roberts.
EMYRG is unique because it is open to all full-time staff in QEII's Charles V. Keating Emergency and Trauma Centre, including paramedics, pharmacists, nurses, and physicians. Its primary aims are to help early-career researchers develop their research programs and to facilitate external funding applications.
EMYRG recipients will be chosen twice a year, and four awards of up to $5,000 will be granted annually to encourage and support researchers in their efforts to advance the field of emergency medicine.
Both recipients of the first round of EMYRG funding are focused on cadaveric research in the areas of airway management and resuscitation. The Dalhousie Human Body Donation Program accepts around 150 bodies each year. Cadavers that have undergone the "Halifax Preparation" process produce a research model that closely resembles living tissue. Donating one's body is an incredibly generous gift to medical educators, learners and researchers. The first two EMYRG grants—awarded to Dr. James Gould and Dr. Adam Parks—are providing funding for the use of this invaluable resource.

James Gould

Dr. James Gould has been awarded the Raymond L. Roberts Emergency Medicine Young Researcher's Grant for his project, Examining the effects of left sternal border chest compressions on compression dynamics and thoracoabdominal organs using clinical grade cadavers. This study compares the effects of performing compressions on the middle of the chest versus the left of centre, specifically looking at chest wall response and potential injuries in the chest and abdomen. This research is groundbreaking as it is the first to investigate whether left sternal border (LSB) compressions are safe and provide adequate chest wall movement. The findings of this study will contribute to further research on LSB compressions and their impact on patient outcomes in cardiac arrest, including neurologically intact survival. James completed his residency training in Emergency Medicine at Dalhousie University and is passionate about resuscitation and resuscitation education. He currently practices as an emergency physician in the Halifax Infirmary ED and as a trauma consultant and trauma team leader with Trauma Nova Scotia. James is the creator and developer of THE RESUS COURSE (https://www.theresuscourse.com), an evidence-based educational resource designed to enhance resuscitation skills among emergency physicians through deliberate practice.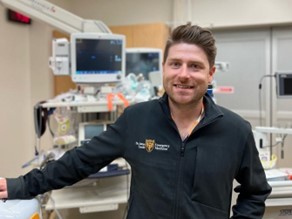 Adam Parks

Dr. Adam Parks has been awarded the Raymond L. Roberts Emergency Medicine Young Researcher's Grant for his project, Accuracy of Bougie Use and Tracheal Clicks During Simulated, Stressful Scenarios: A Cadaveric Study. This grant will cover the costs of statistical support and cadaver usage. The research aims to provide evidence on how medical providers perform with bougies during stressful scenarios and may help inform airway guidelines. Adam has submitted two abstracts for the upcoming EMS Research Day on October 17, 2023. The grant will significantly aid Adam's research projects, which will help improve the quality of airway care provided to patients in prehospital and ED settings.
Adam is a new face in Halifax and has worked at the Halifax Infirmary ED for less than two years. Before this, he completed his residency in Ottawa. Adam's research interests revolve around advanced airway management, and he's passionate about airway education, research and quality improvement. Outside work, Adam enjoys spending time with his family and participating in outdoor activities such as hiking, swimming, camping, and gardening. He's also perfecting his pizza-making skills and welcomes recommendations, but please, no cauliflower!