College of Family Physicians of Canada Family Medicine‑Emergency Medicine Programs
---
Welcome to the College of Family Physicians of Canada Family Medicine-Emergency Medicine Programs for the Maritime Provinces.  This program add one year of intensive Emergency Medicine (EM) to the two-year Family Medicine (FM) residency to enhance skills and competence in emergency medicine.
Uniquely, we have two Dal ESEM programs. One is a traditional one-year (1) program for those who hold certification in FM in which we have offered 4 positions since 1989. The second, a unique program nationally, is the direct entry three-year (3) program integrating FM and EM throughout the program in which there are two (2) spots.
A one-year EM program post-FM offered since 1989 based in Halifax, NS (PGY-3 entry);
A three-year integrated FM and EM program based in Saint John, NB and offered since 2011 (PGY-1 entry).
Our Department of EM includes training sites across all three Maritime Provinces. In addition to enthusiasm for EM our sites include many national and international faculty experts in airway, medical education, ultrasound, critical thinking and patient safety, disaster medicine, toxicology, leadership with a focus on EDI (Equity, Diversity and Inclusivity) and simulation. Our learners benefit from access to 3 tertiary care centers, several regional and community hospitals, a poison information center, trauma team support and regional EMS oversight including disaster planning. As a smaller program, our faculty to resident ratio exceeds 10:1, we have multiple sites and the expertise of national and international caliber educators to provide a strong foundation across the breadth of EM. Clinical teaching is augmented by journal clubs, rounds, a strong simulation program (SIM), PoCUS education and fellowship, a leading national airway program (the home of AIME), two toxicologists and  a Poison Information Center, trauma rounds, research days in both EM and in EMS, several medical education experts and access to education events in the Departments of Emergency Medicine and Pediatrics. Our programs benefits from a collegial and collaborative relationship with our RCPSC colleagues since that program started in 1990. Residents from both programs learn, work and socialize together.
Trouble deciding between programs? This contribution in CanadiEM provides a dual perspective you may find useful.   
Dal ESEM: Physician who hold certification in family medicine (CFPC) are eligible to apply. The objectives of the program are to develop initial assessment and management skills for all acute and critical illness, and to ensure a broad clinical knowledge base. Learning will take place on an accelerated path with graded responsibility and will include departmental management and administration.
To accomplish these objectives, residents must spend a considerable amount of time in the emergency department or ambulatory care setting. Member (affiliated) departments of the Department of Emergency Medicine in both Nova Scotia and New Brunswick are used as training sites. Research skills will continue to be developed through journal club participation, seminar sessions, and residents will undertake and present a modest research project. All residents will have access to an evidence-based medicine (EBM) course designed by experts within our department and focused on emergency medicine.
1 Year: This fast-paced year includes the following four-week rotations: 5 Adult EM, 1 Peds-EM, 2 ICU, 1 CCU, 1 Anesthesia, 1 Ortho-Plastics, 1 Trauma, and 1 elective.
Dr. Ryan Henneberry, Dal ESEM Program Director.  Contact our Education Manager: Jennifer Day for questions regarding this program.
To apply, please visit: Canadian Resident Matching Service (CaRMS)   
iFMEM: This exciting PGY1 entry, three-year program is designed to prepare you for comprehensive patient care while fulfilling valuable leadership roles. Family physicians in smaller communities staffing emergency departments are required to be highly trained and equipped to deal with situations that their colleagues in larger centres often don't encounter.
To better integrate the training required of a physician practicing family and emergency medicine concurrently, our program combines the two aspects of practice in a more cohesive manner.
Our program covers core competencies currently addressed with the two-year family medicine and the one-year emergency medicine programs. The two components are integrated, resulting in competencies being accumulated over the three years. Some components, however, will remain the same as the current family medicine program to ensure you attain the necessary competencies for your CCFP exam near the end of your third year. Continuity of care is established with the core family medicine and rural family medicine experiences, as you will continue with the same preceptor throughout your three-year program.  You will develop physician patient relationships and reinforce the balance required of physicians entering practice.
Longitudinal three (3) year program includes the following four-week rotations:
Year 1: 3 Family Medicine, 1 Adult EM, 2 Internal Medicine , 1 General Surgery, 2 Obstetrics, 1 Orthopaedics, 1 Pediatrics, and 2 Community Family Medicine
Year 2: 1 CCU, 4 Family Medicine, 1 Geriatrics, 1 Palliative Care, 1 Elective, 1 Broad-based EM, and 4 Community Family Medicine
Year 3: 1 CCU, 4 Broad-based EM, 2 Family Medicine, 2 ICU, 1 Peds-ICU, 2 Community Family Medicine and EM, and 1 Elective
Dr. Robin Clouston [iFMEM] Program Director of the 3-year integrated program. Contact our Program Coordinator Joan Wilkins (joan.wilkins@horizonnb.ca) for more information.
Upon successful completion of either of these residency programs and satisfactory results on national CCFP oral and written examinations, candidates are conferred with a Certificate of Added Competency in Emergency Medicine or CFPC(EM).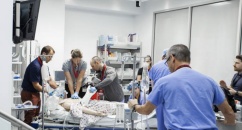 Simulation Based Medical Education in EM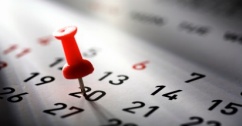 Looking for upcoming rounds and lectures?
If you're looking to plan around future rounds and lectures, have a look at the upcoming schedules.