Dalhousie Department of Emergency Medicine has a program in place for the assessment of Core PoCUS Competency. This process is based on recommendations from the International Federation for Emergency Medicine – PoCUS Guidance.
Dalhousie University Department of Emergency Medicine Point of Care Ultrasound Committee
Core Competency Assessment
Before proceeding to Core Competency Assessment, the physician should have completed a suitable theory course or series of modules, and received hands-on instruction. At Dal we offer the ECCU course. They should then have carried out supervised practice of the specified number of scans with maintenance of a log.
Core Competency covers assessments of:
Focused Diagnostic Ultrasound Assessment for

Abdominal Aortic Aneurysm, (AAA)
Abdominal, Pelvic and Pericardial free fluid in Trauma (FAST)
Pericardium and Ventricular motion (Echo in Life Support)
Early Pregnancy – confirmation of intra-uterine pregnancy (IUP)
Pleural/Thoracic free fluid  (eFAST)
 Lung Sliding (rule out Pneumothorax, eFAST)

Focused Procedural Ultrasound Guidance for

Insertion of venous catheter
When the physician has reached the recommended number of scans for an assessment (your trainer will give guidance on the recommended number of scans you require for each modality), the relevant section of the document is completed by an assessor who will assess them as they scan a patient / volunteer (image acquisition), interpret images and apply their findings to standardized clinical scenarios. When each section is successfully completed, the whole document forms proof of achieving core competency. Whilst the minimum standard is competency to perform, Emergency Physicians should be aspiring for competence to teach. Ultrasound simulation may be used to demonstrate pathology or needle guidance.
PoCUS Competency   [300kb]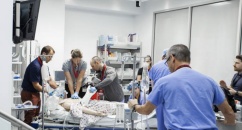 Simulation Based Medical Education in EM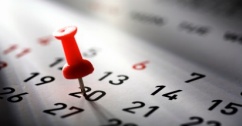 Looking for upcoming rounds and lectures?
If you're looking to plan around future rounds and lectures, have a look at the upcoming schedules.